Witamy na stronie WNiG
Latest issue of Oil and Gas News:
Possibilities of biogas treatment to biomethane
The article presents the possibilities of biogas treatment to biomethane. Biogas is a mixture of gases, consisting mainly of methane and carbon dioxide, and to a lesser extent may contain moisture, nitrogen, oxygen, hydrogen sulfide and relatively small amounts of ammonia and siloxanes, as well as halogen hydrocarbons and other volatile organic compounds. It may also contain fine solid particles. What is very important, each biogas from a different source has a slightly different composition and thus its specifications and properties are different. Biogas can be produced both naturally and industrially. If biogas is planned to be introduced into the gas network or used as fuel for vehicle engines, in addition to removing pollutants, it is necessary to remove carbon dioxide from it. Currently, biogas purification technologies are constantly being developed, most of the existing ones have been used to upgrade natural gas to a high-methane form, and then have been adapted to treat biogas, which, however, has a different composition, especially the initial one, than natural gas. For this reason, there are a number of opportunities to create new techniques, as well as to improve the existing ones and thus create cheaper, more effective sources of biomethane... dalej
The problem of the formation of hydrates in the gas industry
The formation of hydrates in the gas industry is a serious problem that can disrupt the operation of the gas network (gas pipelines, reduction stations), and in extreme cases can completely block the flow of natural gas. The article presents the structure of natural gas hydrates, the boundary curve for the occurrence of hydrates for natural gas and the influence of the content of water, heavy hydrocarbons and hydrogen sulphide on it. The possibility of damage to the gas pipeline as a result of decompression on both sides of the hydrate and thermodynamic transformations during the isenthalpic gas throttling in the reducer at the high pressure reduction station are also described. Equations describing the release of hydrates and methods of preventing the formation of hydrates in gas pipelines and gas stations are also given... dalej
Unmanned flying vehicle in oil and gas production sector
We live in a world of innovation, where new devices and services are emerging every day to make our lives and work easier. Drones are more and more common equipment in many businesses, including surveying and oil and gas industry. Not so long ago an expensive toy with no measurement capabilities, today it is rapidly entering in to hydrocarbon upstream and downstream sector. PGNiG Orlen Group, seeing the potential of this equipment, eight years ago purchased the first unmanned vehicle for surveying and mapping purposes. Specialists, obtaining state authorizations to pilot drones for the company's needs, discovered previously unattainable possibilities. Inspections of oil and gas plant, taking orthophotos of the current field situation, analyzing the terrain for the drilling rigs purposes, designing seismic routes, field inspections of large areas and monitoring emergency situations - all this suddenly became possible while minimizing costs and time. Over times, new possibilities have emerged – 3D visualizations and point clouds, along with the information carried by each pixel of the cloud generated during a raid by an unmanned aerial vehicle. The use of drones is part of the digitization strategy being implemented in the Smart Field project. The Analytical Platform under construction and the integration of Data Bases will enable the full use of the potential of unmanned aerial vehicles. This article is intended to show these possibilities and introduce the process of drone usage in PGNiG Orlen Group... dalej
---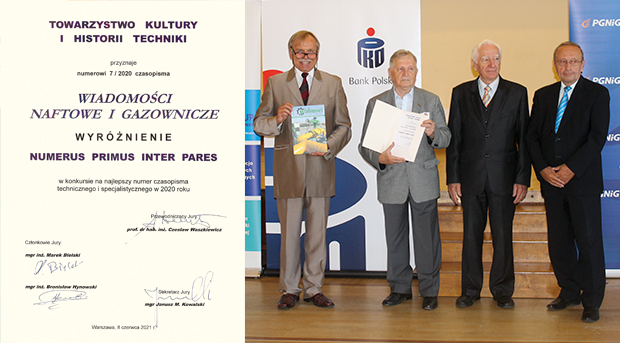 Od kilkudziesięciu lat, działające w ramach Federacji Stowarzyszeń Naukowo-Technicznych NOT Towarzystwo Kultury i Historii Techniki, jest organizatorem konkursu NUMERUS PRIMUS INTER PARES.
Z nieukrywaną satysfakcją (ale też z odrobiną miłego zaskoczenia) przyjęliśmy w Redakcji tegoroczny werdykt jury, obradującego pod kierunkiem prof. dr. hab. inż. Czesława Waszkiewicza – przyznającego numerowi 7/2020 Wiadomości Naftowych i Gazowniczych wyróżnienie NUMERUS PRIMUS INTER PARES na najlepszy numer czasopisma technicznego i specjalistycznego w 2020 roku.
Uroczyste wręczenie nagród i wyróżnień konkursu NUMERUS PRIMUS INTER PARES odbyło się 22 września 2021 roku na gali finałowej Ogólnopolskiego Konkursu Młodych Innowatorów 2020/2021 połączonej z Olimpiadą Wiedzy Technicznej. Uroczystość miała miejsce w przepięknym Warszawskim Domu Technika NOT – zabytkowym budynku o neobarokowej i neorokokowej architekturze. Z rąk jury konkursu wyróżnienie dla Wiadomości Naftowych i Gazowniczych i ich wydawcy SITPNiG odebrał kolega Maciek Bednarek (na zdjęciu drugi z lewej).
Redaktor Naczelny
---